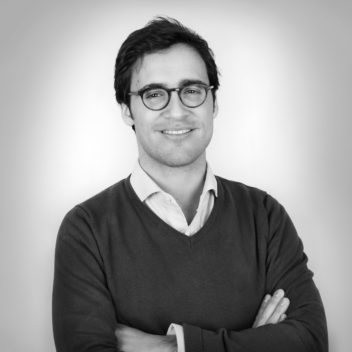 Jesús Aparicio Alfaro, Architect 
Born in New York City and raised in Madrid, Jesús attended the Polytechnic School in Madrid, where he graduated with honors as an Architect in 2014. He has worked in New York, London, and Madrid, collaborating with Alberto Campo Baeza, David Chipperfield, and Jesús Aparicio Guisado. Additionally, he studied at L'Ecole Nationale Supérieure d'Architecture de Paris-La Villette.
He is currently working at Olnick Spanu as a project architect, helping with the design, construction, and management of Magazzino of Italian Art. He is also preparing to begin his PhD to research the transfer of knowledge in Architecture in the last century between Europe and the US.
Recently, he has been guest critic at NJIT and has exhibited at the Lisbon Architecture Triennial. He collaborated with Alberto Campo Baeza at the 2012 Biennale di Venezia. As a student, he was awarded the accesit prize for the "XXI Premio F.J.S. de Oiza UPM- Cátedra Blanca CEMEX," and he realized an artistic intervention in the château de Kerguéhennec in France.