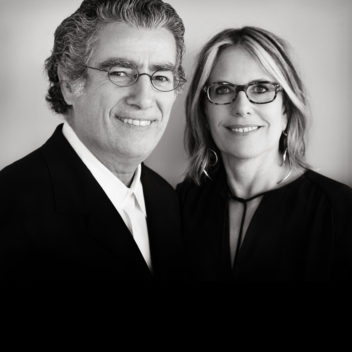 Nancy & Giorgio 
Giorgio and I were born and raised on two very distant and different islands: Sardinia and Manhattan. Having always been an Italophile and loving everything Italian, I believed I was destined to meet and fall in love with this magnificent Renaissance man. From the outset, we both felt that we had similar interests and a curiosity to expand our horizons in tandem.
We both adored art and began acquiring pieces for our new home in New York City. We continued to add pieces of Pop Art to those already collected and we started to explore American Abstract Expressionism and Modern masters. We were intrigued by the work of Jean Dubuffet and devoted an entire room to his art. In addition to art, we began to consider how we wanted to furnish the apartment. We discovered the world of Art Deco and were particularly drawn to the work of Jean Michel Frank and Pierre Chareau for its scale and simplicity. On our first trip to Paris, we scoured the galleries, which were a feast to the eye, but we only acquired books and more books. It took us several years to complete our apartment.
By happenstance we saw a piece of glass, an hourglass, which turned out to have been made on the island of Murano near Venice. The fact that it was made in Italy intrigued me. We found other pieces at random fairs and obscure galleries. Slowly the number grew and before we knew it, we had pieced together a quite beautiful and large collection of Murano glass. One day out of the blue, I received a call from Holly Hotchner, the Director of the Museum of Arts and Design, formerly The Craft Museum. She had seen an exhibition of our Carlo Scarpa work which was on loan to the Musée des Arts Décoratifs in Montreal and invited us to display all our Murano works—which ranged in dates from 1910 to 2000—in an exhibition to be held in Fall 2000. Her chance encounter with our collection would open a new chapter in our lives.
Fortuitously, at the same time, it was our good fortune to be introduced to two people who would become our close friends and mentors: Massimo and Lella Vignelli. Massimo instantly agreed to design our Murano exhibition and graphics, having designed glass there himself after graduating from Ca' Foscari School of Architecture in Venice. In addition, he designed a scholarly catalogue that accompanied the show as it traveled to several museums in the U.S. and Europe.
Always fascinated with architecture, Giorgio and I made pilgrimages to visit and study some of the world's most outstanding ancient and modern examples. After spending weekends and summers with our children in our dearly beloved log cabin, we knew we would one day build a new house on the ground where it stood. Massimo introduced us to the Spanish architect Alberto Campo Baeza. After one evening in his company, we decided to make a trip to Spain to visit all the office buildings and homes he had designed. Seeing his work, we knew he had the balance between modernism and classicism we were looking for. Being a master of light, Alberto illuminated the exquisite view of the Hudson Valley through the glass walls of our new home. The structure speaks for itself.
When the house was 90% completed, Giorgio and I moved to Rome for one year with our daughter Stella. It was during this time that we were intimately exposed to the world of Italian Art—both ancient and contemporary. In the end, it was Arte Povera that captured our hearts. This movement, which started in the 1960s and continues to be so relevant today. We began to study it in depth and decided to put exclusively Italian Art in our new home.
The only drawback to collecting Arte Povera is that much of the work is huge in scale and certainly cannot be shown in a house made of glass walls. This led us to look for an appropriate space to display the artwork. It is our mission to be able to share our experience and education with family, friends, and an interested audience who may not be familiar with the power of Italian Art.
Our lives have evolved in the most natural and organic way—one experience leading us to the next. Without a doubt, the most gratifying aspect of our lives has been the incredible and knowledgeable people we have met along the way—many of whom have become great friends. And the most fortuitous event, for me, has been meeting Giorgio, the love of my life and partner in all, who makes everything magical.
–Nancy Olnick, 2016