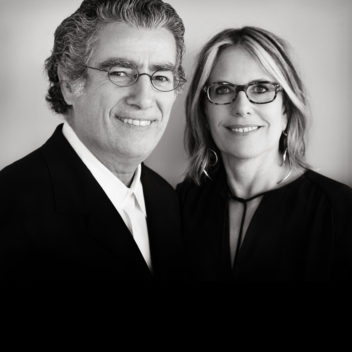 The Olnick Spanu Art Program
Each year, Nancy Olnick and Giorgio Spanu commission a contemporary Italian artist to create a site-specific artwork for their property in Garrison, New York. 2015 marks the 10th anniversary of The Olnick Spanu Art Program. OSAP is one way the couple honors their commitment to bringing the work of Italian artists to the United States.
Every summer an artist is invited to the Olnick Spanu country residence, Olnick Spanu House, a glass and concrete house designed by the Spanish architect Alberto Campo Baeza. The artist is encouraged to explore the grounds, which are made up of rich landscapes, natural forests, expansive gardens, a working farm, and sweeping views overlooking the Hudson River.
In this unique environment, located in the same region that bears the rich tradition begun by the Hudson River School of painting in the mid 19th century, a project is conceived. The artist shares his or her concepts with Nancy and Giorgio and then returns to Italy to create and complete the work. The following June, the artwork is installed and then unveiled to the art community during a celebration in late September.
Embedded in the spirit of each work is the influence of Arte Povera, the most radical, avant-garde movement to emerge in Europe in the 1960s. Distinctly Italian, Arte Povera, meaning "poor art" or "impoverished art," originally distinguished itself by using commonplace materials such as earth, rocks, clothing, paper, and rope to evoke a pre-industrial age. Hence, the installations are sculptural as well as conceptual—evocative of their locality, as well as the past and memory.
Looking forward to the next ten years, The Olnick Spanu Art Program will continue to cultivate and expand this new home of Italian art nestled in the Hudson Valley.