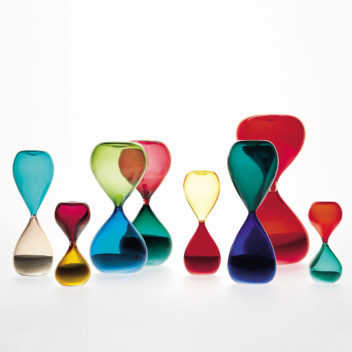 Foreword
Little did Giorgio and I realize what we were getting ourselves into when we impulsively acquired our first piece of Murano glass. We went to Sotheby's in New York to pick up a contemporary art catalogue and decided to take a look at the current exhibition of decorative arts. From across the room, a half-cobalt blue, half-emerald green hourglass caught my attention. We loved it and left a bid. We didn't think about the piece again until the auction house phoned to inform us that our bid had been successful.
The minute I placed the piece next to our Flowers painting by Andy Warhol, it was magic. I don't know whether it was the light or the juxtaposition of 1950s Italian glass and 1960s American Pop Art, but the combination worked. Our passion for Murano glass had begun. In a short time we acquired many wonderful pieces from local fairs, galleries, and auctions.
We wanted to study, to educate ourselves. It was difficult then because there was a dearth of literature available on Murano glass. Years later, on one of our trips to Italy, Giorgio noticed an article in the Alitalia In Flight magazine concerning a glass exhibition titled The Art of the Barovier at the Querini Stampalia in Venice. Though it was not on our itinerary, we went to Venice for a day to see what turned out to be a magnificent presentation of twentieth-century Murano glass. Mesmerized by the design and craftsmanship, we were determined to meet the curator, Marina Barovier. As luck had it, she was in Venice and agreed to meet with us. Our formal education had begun. The following year Marina took us to Murano and introduced us to Archimede Seguso, one of the greatest glassmakers of the twentieth century.
Initially, it was the colors that attracted us to the glass, as well as the unusual shapes of the 1950s. Fulvio Bianconi's sensual forms and colorful patchwork designs were impossible to resist. Dino Martens's African inspired Oriente and Eldorado series were some of the most exciting pieces of glass we'd ever seen. Archimede Seguso's Merletti had an ethereal elegance. We were mesmerized.
We decided to investigate glass from the beginning of the twentieth century. We discovered Vittorio Zecchin, the Artisti Barovier, and Napoleone Martinuzzi, who were beginning to break away from the overelaborate forms and dense colors of nineteenth- century Venetian glass in favor of a more restrained style, transparent glass, and intricate mosaic technique.
At that time, chandeliers, drinking glasses, and vases started to be considered works of art. Murano was gaining worldwide recognition at the hands of these masters. As we discovered more about glass, we began to gravitate to the years between 1925 and 1945. There was one designer in particular who took our breath away–the Venetian architectural genius Carlo Scarpa. The simplicity of his forms, his Eastern influences, and his novel glassmaking techniques brought a modernism to Murano that it had never before seen. His work became the ultimate focus of our collection. To us, each of his pieces is a jewel.
Our collection takes us to Murano at least once a year. We find it fascinating to watch this art in the making. The maestri blow glass today in the same way as they did 700 years ago; we are continually amazed by the inexplicable form of communication that takes place between designer and glassblower. Today, we are watching the development of Cristiano Bianchin, Yoichi Ohira, Laura de Santillana, and Lino Tagliapietra. When we recently saw an exhibition of the work of Giorgio Vigna for Venini, we realized that our collection would now be expanding into the twenty-first century. While the individual sensibilities of these artists vary, they are all creating works in the time-honored tradition of Murano.
Interestingly enough, after all our education and experience, we collect Murano glass today in much the same way we did when we were drawn to our first piece. We rely on instinct. We are attracted to some forms because of their simplicity. Others may be more complex, but it is their color that captivates us. We can be drawn to an intricate technique, but inevitably, we react to the synergy of the piece.
We particularly like vases. Perhaps it is their grace and fragility coupled with the idea that they are, at the same time, usable vessels. We love the way the glass itself reflects light and enhances its immediate surroundings. These art forms have a mysterious presence–something you can't really grasp all at once, or even explain–although you can pick a piece up and hold it in your hand. And when you do hold it in your hand, it vibrates with its own life. This is the moment in which we decide whether or not to purchase a piece of glass.
Giorgio and I have been very fortunate to have discovered the world of Murano. Searching for glass has been an educational experience for us. Even more than that, living among these pieces has decorated our day-to-day lives with flashes of color and light and joyful inspiration.
We believe that we have not only documented the evolution of an art form, but also the magic of a process–the alchemy that takes place between, water and sand. This collection, after all, is a tribute to the creativity of the human spirit.
–Nancy Olnick and Giorgio Spanu, 2003