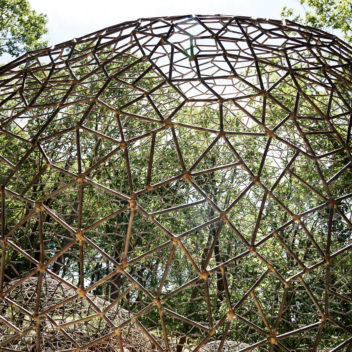 Giorgio Vigna, La Radura, 2003–2005
La Radura (The Glade of One's Own) is the title of the artwork by Giorgio Vigna commissioned by Nancy Olnick and Giorgio Spanu in 2003 and presented in 2005 as the first work of Olnick Spanu Art Program. La Radura is an outdoor installation consisting of seven elements of varying sizes, each of them shaped like a stone. The pieces are made of bronze and welded with silver.
Vigna's vision was to realize a work that would fit in as if it had always been there. The sculptures are transparent; they offer outlines of stones that are at once clearly defined and nonexistent. They hold a dialogue with leafy lights and shadows, and resound through the wood at passing wind and rain.
Medium and dimensions
Bronze, silver
Largest
92 x 118 x 74 in. (210 x 300 x 190 cm)
Smallest
23 x 31 x 17 in. (60 x 80 x 45 cm)
For information about the artist and artwork please contact Elisabetta Cipriani Gallery, London, info@elisabettacipriani.com or Naïla de Monbrison, Paris, naila.de.monbrison@orange.fr.