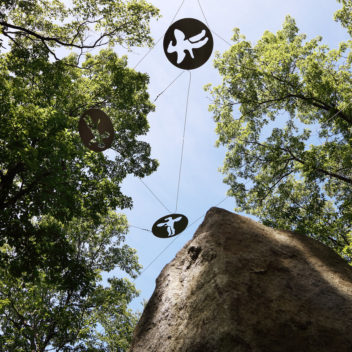 Mario Airò, L'anello degli Appalachi, 2007–2008
L'anello degli Appalachi (Ring of the Appalachians) is the title of the artwork by Mario Airò commissioned by Nancy Olnick and Giorgio Spanu for the 2008 Olnick Spanu Art Program. It consists of a monumental granite stone resting atop an arched metal base, and three aluminum disks suspended from the trees above. The piece was conceived by the artist and produced in Cold Spring, NY. Tino Yannitelli of 301 East Inc executed the metal work, while the stonework was done by Mario Gregorio of Gregorio & Gregorio Inc. Michael P. Carr produced the structural design of the elliptical arch.
The idea for the piece was born while Airò was scouting the grounds of the Olnick Spanu estate in Garrison, NY during the excavation for the foundation of Olnick Spanu House. The artist, captivated by the odd, triangular shape of the stone excavated from the construction site, envisioned the work as a way to create a link between the earth and the sky. Inspired by the light and broad horizon of the Hudson Valley as well as by the remnants of Native American culture in the region, Airò designed the three aluminum disks featuring shamanic symbols suspended above the structure.
Medium and dimensions
Granite, stainless steel, and aluminum
762 x 340 x 122 in. (1935.5 x 863.6 x 309.9 cm)
For information on the artist and artwork please contact Tucci Russo Studio per l'Arte Contemporanea, Turin, gallery@tuccirusso.com.