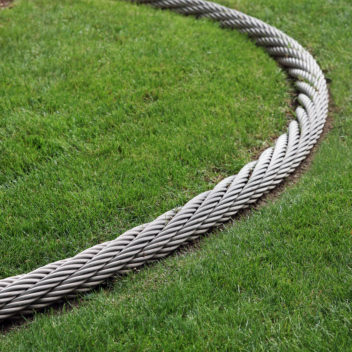 Remo Salvadori, Continuo Infinito Presente, 2009–2010
Continuo Infinito Presente (Continuous Infinite Present) is the title of the artwork by Remo Salvadori commissioned by Nancy Olnick and Giorgio Spanu for the 2010 Olnick Spanu Art Program. The piece, an enclosed ring of heavy metal cable, lies in the grass encircling two oak trees on the grounds of the Olnick Spanu estate in Garrison, NY.
The figure is that of the circle, identified by Pythagoras as the form that holds up the Universe and stands as the symbol of the continual cycle of life. Within its circumference, one can distinguish no beginning and no end, while each of the infinite points around it can be considered both a beginning and an end. Continuous Infinite Present gives place to a reverse epiphany: it reveals that which has never been given, or of which there remains no trace. In this way, the work seems to celebrate that which is apparently not there, while effectively delineating what indeed is there and what is, precisely, "continuous," "infinite," and "present."
Medium and dimensions
Steel Cable
161.4 in. diameter x 3.5 in. (410 cm diameter x 9 cm)
For information on the artist and the artwork please contact Galleria Christian Stein, Milan, info@galleriachristianstein.com.