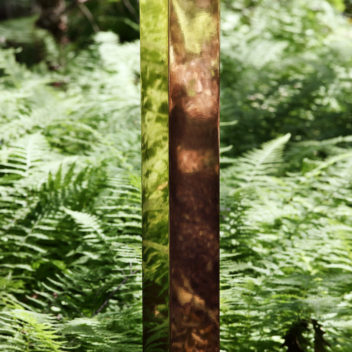 Francesco Arena, Posatoi, 2013–2014
Posatoi (Perches) is the title of the artwork by Francesco Arena commissioned by Nancy Olnick and Giorgio Spanu for the 2014 Olnick Spanu Art Program. It consists of five bronze totems constructed based on the specific measurements of the height, as well as the distance between the eyes, of each member of the Olnick Spanu family. It was produced in Milan by Fonderia Artistica Battaglia.
The Italian word Posatoi translates to "perches" and is generally applied to birds. The five totems, positioned so that each gaze is directed in a different direction, demonstrate the idea that each member of the family has his or her own individual perch—or unique point of view—and yet that they are all bonded together as a family. Cast in bronze, Posatoi conveys a sense of permanence and longevity. The reflective quality of the bronze catches the light and the changes in the surrounding natural environment throughout the seasons. This work is a testament to the importance of the nuclear family and symbolizes the idea that, while independent, each member inevitably is reflecting on the others.
Medium and dimensions
Bronze
Giorgio
65.5 x 3.94 x 3.94 in. (166.4 x 10 x 10 cm)
Nancy
63 x 3.74 x 3.74 in. (160 x 9.5 x 9.5 cm)
Eve
62 x 3.35 x 3.35 in. (157.5 x 8.5 x 8.5 cm)
Robert
65.9 x 3.94 x 3.94 in. (165 x 10 x 10 cm)
Stella
56.7 x 3.94 x 3.94 in. (144 x 10 x 10 cm)
For information on the artist and the artwork please contact Galleria Raffaella Cortese, Milan, info@galleriaraffaellacortese.com.